Beat Bedsit Tours 2002 & 2003
Project Adorno tour notes (August/September 2002)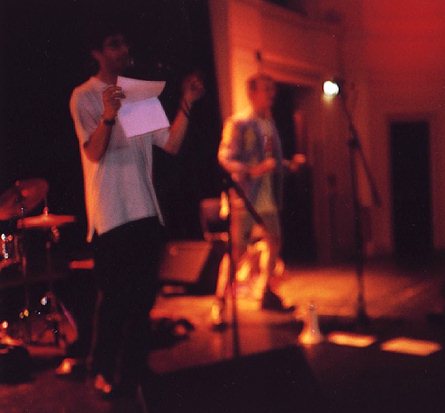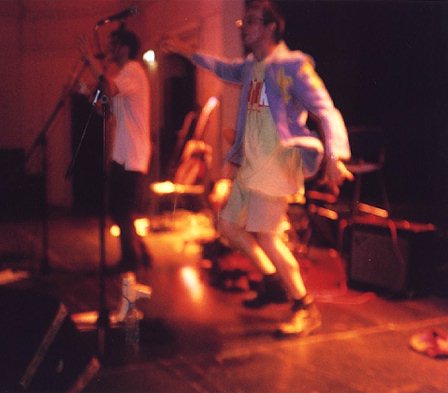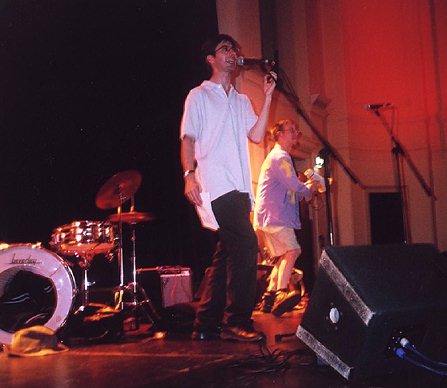 Adorno triptych

So, Project Adorno finally "hit the road" and went on tour - something I never thought I'd do. It was all courtesy of our good friends at Beat Bedsit records who put together a 10 day programme featuring five "acts", taking in towns and cities all across England.

Hastings
First gig of the tour - we find ourselves beetling along the Hastings road - stuck behind slow moving traffic virtually all the way. we've previously missed our motorway junction and are now running horrendously late! We arrive at the venue and are struck by how grand it looks - an old church up on "the Mound". We're led through the catacombs by a member of staff - music getting louder with each twist and turn. We enter the auditorium to see Roger (AKA We Am Janet - one man and his electric guitar) doing battle with the echo-ey acoustics of the place. It's huge - Roger a mere speck in the distance. We've arrived in time to see most of his set and are informed that we're on next (we've missed Pog and Chester - more of them later in the tour!) - with Lianne Hall and her band, Pico, making up the five "act" compliment and headlining tonight.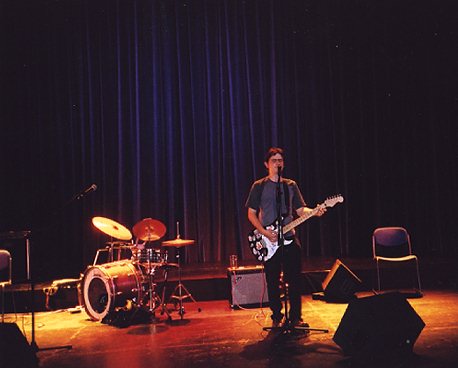 Roger AKA We Am Janet

I go and make my acquaintance with the sound man (always an interesting (and very necessary) encounter - they're a strange breed, these folk!). After lengthy discussions/negotiation regarding jack, phono, and XLR (male vs female) compatibility, tech requirements are eventually satisfied. No time for a proper soundcheck (given late arrival) - suddenly we're on, but promptly off again - a local "guest" poet is going on prior to our act. We return to the stage after said poet feeling somewhat anti-climactic!
We launch into "Sex pistols" with great gusto - the stage feels huge - could go jogging round it! I initially jump off the stage and walk the mile or so back to the sound desk to tweak levels (a favourite past time - some would say, compulsive obsessive disorder, of mine).
Donning multi-coloured scarf and acoustic guitar we slide into "Tom Baker" - a highlight of our recent "Stop the Tardis" Edinburgh show. It's harder to generate an atmosphere in here - I also realise at this point that I should've miked the guitar - I'm strumming furiously but the sound is getting lost - swallowed up by the vastness of the venue (mental note - must acquire a semi-acoustic guitar ASAP!).
Tonight sees the return of "Let's communicate" to our set - a dancey, eighties inspired, electro piece for which fellow Adornite, Russell is beginning to develop a YMCA style dance routine. It goes down well, (both poem and dance!) though bizarrely we don't include it again for the rest of the tour.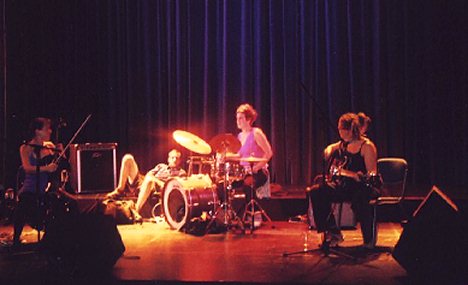 Pico - Lianne, Bella, Susanne, & Boo (reclining)

Despite various hiccups it's an enjoyable experience. We retire to the audience and bathe in the chilled out sounds generated by Lianne Hall and Pico who headline tonight. To add to the laid back feel during Lianne's set we notice a figure draped, almost lying down at the back of the stage. This turns out to be Boo - on keyboards - a sort of chilled-out Bez! Someone we grow to know and love as the tour progresses!


Brighton
It's down to the Sanctuary the following night - a home from home of sorts - this becoming a regular venue for Project Adorno. we go on first and it turns out to be one of best, and certainly most enjoyable, performances to date. It's a packed out crowd and they're really getting (into) it! Can't even recall much of our set - apart from "Follow the nerd" - an anthem for all geeks and outsiders - complete with flask and anorak. At one point I point to an audience member who looks as though he's just stepped out of a Parisian cafe from the 1960s - "this man should be in Project Adorno" I tell the assembled crowd.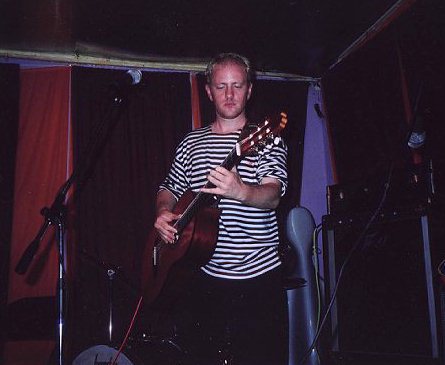 Pog
Tonight we get to see Pog and a full set from We Am Janet. The crowd are a bit noisy during Pico's set, however this doesn't appear to phase them - Lianne focussed and seemingly oblivious to it all - that girl could play through a hurricane! And the songs are really growing on me - "Thief-stealer" and "Rain" beginning to get lodged in my brain. Yet again we miss Chester, heading back to London before they go on (they being headliners tonight), and getting ready for our "home town" leg of the tour at Merton's Colourhouse Theatre the following evening.


London - Merton (Colourhouse Theatre)
We're nervous tonight - this is "our" gig in many respects - we've done all the publicity we can and the local papers have done us proud with a sizeable piece in the "Mitcham and Morden Guardian" so we're desperately hoping we get some sort of audience - in short we feel responsible for the success or failure of tonight's gig.
The rest of the Bedsit entourage arrive and Pico set up the "backline" - this becomes a feature of the tour - everyone else plugging in and using the Pico PA set up - a method that works very well, particularly at venues where there is no in-house PA.
Thankfully a good sized crowd turns up - totally different from our Taking the Mike regulars (bearing in mind it's the same venue). Roger kicks off (I think!) - his songs are now beginning to grow on me in a very big way. There's a subtlety in his work - the more you listen, the more you get sucked into the weird worldview of We Am Janet - and the more you think "what a great songwriter".


Introducing: Chester!
We finally get to see Chester tonight - Pam and Rob doing their upbeat punky double act. It's simplicity in itself - Rob on electric guitar and vox, Pam on vox and silly dance routines. They go down a treat with the Merton crowd!

Tonight we play to our home crowd and it feels like party time! I try out a brand new song "Broadway brothers" written for and about my brother - another nostalgia infused offering (see also "The other ones") - playing it live chokes me up a bit tonight. I aim to do it tomorrow in Nottingham where my brother will be in the audience.
Pico headline - we play games beforehand, anticipating where Boo will place himself and in what position (sitting, standing, lying?!) - for someone so static on stage, he has such presence. Pico are, yet again, blinding - no wonder John Peel's a fan. This tour is starting to "rock"!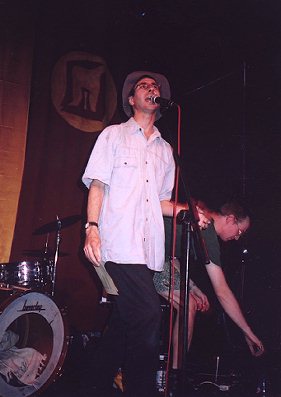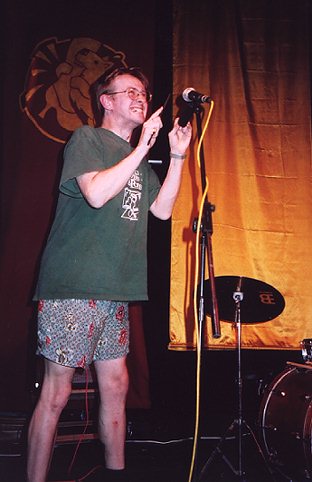 More Adorno Action
Nottingham
We all meet up at Merton Abbey Mills craft market on a sunny Sunday morning - everyone will be travelling up to Nottingham together in the tour van for tonight's gig. This is the gig that nearly didn't happen - an eleventh hour search for a venue taking place when the original venue suddenly fell through. I was determined to play Nottingham not only because it provided a chance to meet up with my brother, and afford him the opportunity to see the ever evolving Project Adorno live show, but also, as I wouldn't be able to play every date on the tour, I was damn sure that those I had committed to would happen! (After numerous phone calls the day beforehand, I eventually found a sympathetic pub landlord who agreed to accommodate us). Venue sorted - but most of the entourage have nowhere to stay tonight - thinking that the Nottingham "leg" wouldn't be happening!
Everyone has a good look round the Abbey Mills market before we eventually start making our way. The journey through (round? - were getting lost here!) London takes ages (traffic, traffic, traffic - but then, as Martin Amis once said, we are the traffic too). We finally hit the M1 and begin the vertical trek north. Stopping off at a service station a change of driver is called for - much to his surprise, Russell Adorno suddenly finds himself quite literally in the driving seat - a seat he occupies for much of the remainder of the tour.
Arriving in Nottingham we're marshalled round the inevitable one-way system (everywhere's got one!). We stop to consult maps and ask for directions before realising we've actually parked just outside the venue!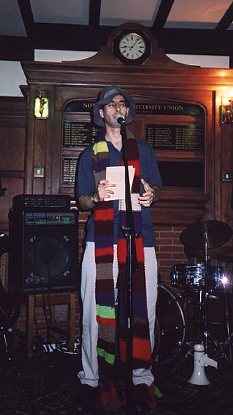 Adorno vs Dr Who
Somewhat unsurprisingly, audience attendance is sparse (though the tour promoter has managed to get tour posters to the venue, which they have displayed - despite the late organisation) - being a Sunday probably doesn't help. Despite this, we make the best of it. My brother is in attendance and he's brought a few friends in. We start late which curtails everyone's set. We Am Janet play to a small and somewhat indifferent audience (though one guy is quite vocal and contributes a few light-hearted "hecklettes"). Pog plays a blinder tonight - fired up by the antipathy/apathy. "Boring boy" is a fantastic song and something Pog could never be.
Due to time restrictions, the Adorno set is short and sharp including usual crowd pleasers (playing safe with "Library", "Double-act" etc) but alas no "Broadway brothers" - which was to be included for my brother…..a regret, looking back.
A few cover versions creep into the Pico set. Russell and I ponder this…..first out-and-out pub gig of the tour….maybe they too are playing safe….Lianne's mobile rings midway through their set - she must answer as it's likely to provide a solution to tonight's accommodation problems!
Despite the low turn-out, it's a great night, everyone beginning to bond and feeling as though the tour is just beginning to roll…..
Which is ironic really as this is where I have to leave it, missing out on the next three gigs (in Bradford, Leeds and Birmingham) before rejoining in Frome towards the end of the tour. The Bedsit entourage are suddenly moving on - last minute accommodation has been found but it's up near Bradford. Some late night driving ahead….
Frome
I return to the tour after a three day absence (during which time I've been listening to CDs by all the tour bands (and at the approximate time they would most likely be onstage - withdrawal symptoms?! Nah, not me!)) to learn that the whole crew have been involved in a car/van crash the previous night. Luckily no-one is injured (except the van - needing extensive repairs) and miraculously that night's gig still goes ahead.
Tonight's gig is in a small "front room" style pub in the quaint market town of Frome in Somerset - it's all a bit like something out of "The league of gentlemen"! There's a smallish crowd in to witness We Am Janet (who seems to kick things off most nights). I've been listening to his songs non-stop during my "absence" - hearing them tonight is like meeting up with old friends. Pog is up next and I'm always reminded of "Eastenders" as he asks someone to "mind the (distro) stall" (tonight it's Russell). Pico have brought quite a crowd in (an apparently the tour has been announced on John Peel's show).
The pub is heaving by the time Project Adorno take to the stage (I think we headline tonight). For the first time on the tour we include "Letter to a line manager" which goes down a treat - from then on in it feels as though the audience are hanging on our every word - why can't all gigs be like this? - they're all enjoying it, getting it and we feel like rock 'n' roll stars! I sleep like a king that night in my quiet and exquisitely clean B&B down the road.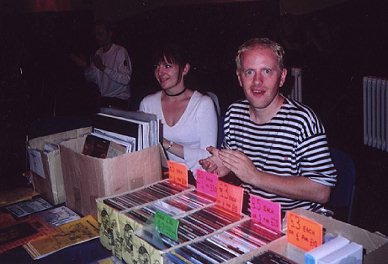 Mr Distro (Paul "Pog" Stapleton)

Plymouth
We decide to explore the shops in Frome before making our way to Plymouth for tonight's gig at the Nowhere Inn. Frome really is a charming town, full of individual shops, oozing with character. We hit the charity shops - and there are plenty of them in Frome. Roger buys a copy of "Moving onto solids" - a handbook for parents with young children (The cover alone is frightening!) - I'm still waiting for it to be mentioned in one of his songs - in fact, I may well use it if he doesn't!
The glow from last night's gig is still with us on this sunny morning as we head west to Plymouth (Russell and I going by car, the rest in the van). This will be our second Project Adorno gig in Plymouth this year, earlier in the year supporting "Magic" Mike's Gob Dylan punk band - that was a crazy night - this one turns out to be even crazier! It must be the Plymouth air.
We arrive in Plymouth early, with time to check out various second-hand record and book shops. Pog takes us to some great sci-fi type shops (where, bizarrely, I buy a Frankie goes to Hollywood "Two tribes" 12" (just how many versions/different sleeves/multiple formats of this record are in existence? A completist's nightmare!)).
The Nowhere Inn is packed to the rafters by the time we're ready to go. This is a well known venue for most of the Bedsit posse - Paul/Pog having played here on many occasions. Project Adorno are on first - I decide to video the proceedings (this and the Colourhouse gig being the only two that are filmed). It's a positive start to the evening - a warm reception, though crowd are quite boisterous even at this early stage. we stick to the more uptempo numbers in our pop-beat-poetry repertoire - "Sex Pistols", "Double-act" etc. Pog plays a blistering set tonight - somewhat riled by a group of lads talking at the front - and worse, turning their back on the stage itself - this only serves to fire him up - he is awesome ("On fire" I hear someone say)!

But the night really and truly belongs to Chester who headline tonight - their sparky tales full of aliens, superheroes and cartoon characters all goes down a storm as does Pam's dancing (as ever). But it doesn't end there….as an encore Chester are joined onstage by Roger, Boo, Kerry (Pog's sister) and Russell, all taking it in turns to "chip in" with various cover versions of punk classics. There's drum fills from Roger, crazy Bez-like dancing from Russell and Boo, and Kerry proves herself to be quite a multi-instrumentalist, playing drums, guitar and doing vox at various points during the "set". I keep the video camera rolling….. Rob finally calls it a day, discarding his guitar and stalking off for a well earned drink - but there's no stopping the others - it's mad, yet strangely fitting…there's a real party atmosphere (most of it caught on video) tonight. One more gig to go (St Agnes, Cornwall) and yet, it feels like the last gig of the tour……
In the event this turns out to be the case. St Agnes unfortunately never happens - everyone just too plain exhausted and ready to go home. But what a tour, what an adventure, what a great bunch of people!…..same time next year?
Oct 2002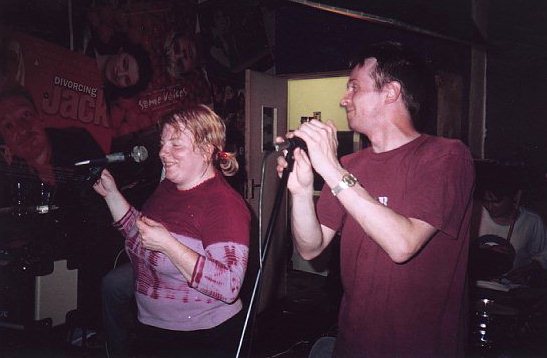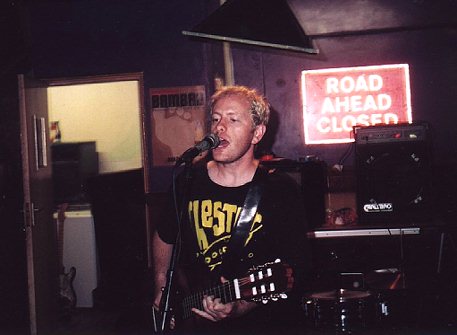 Pam and Russell - there 'til the bitter end!
(left),
Pog - boring boy with a guitar, Not! (right)

RUSSELL'S TOP TEN BEAT BEDSIT TOUR MOMENTS

1) Pam's snoring in Birmingham, and the various forms of physical abuse meted-out to try and make her stop. For Susanne Pico it was all too much - she went and sat in the kitchen all night.

2)Bradford Library. Nice place. My friend Suzan - a Bradford native - said if I'd gone into the library's cafe, I could have seen a mural of a monkey engaged in an act we cannot describe on a family website. Sadly I missed it.

3)Roger getting locked in the Colour House Theatre.

4)Birmingham: taking breakfast to Boo (who had slept in the van), feeling only slightly silly walking along the suburban streets with a tray piled high with orange juice, fried mushrooms, beans, etc.

5) Paul reading his "Tripods" book instead of map-reading. After ribbing him about it all week, I later remembered that I'd once read the book myself. I'd obviously suppressed the memory.
6) Group excursion to Happy Shopper, Handsworth. A particularly poignant act of bonding, under the circs. Not much there for the vegans, though.

7) Frome: Boo asking my friend Tracey to draw a picture of a monster in his notebook. Drawing monsters is her speciality. This one was a hippocamp, I believe.

8)Plymouth: breakfast with Pam and Roger in the University cafe, which then stopped serving before the others arrived. Ooh, touch of schadenfreude, there.

9)My old chum Simon Pitt emerging from the crowd at Birmingham. I'd not seen him for 11 years and didn't even recognise him. Should have done, though - he was wearing one of those velcro t-shirts with the words POETRY SLAG arranged on it.

10)Oh yes - and all the gigs, too.

Bubbling under: The obviously home-administered tattoos of the lorry-driver who'd narrowly failed to kill us on the M1. What the hell were they supposed to be?

---
Trains, Buses & Libraries tour 2003
Featuring Eastfield, Anal Beard and Project Adorno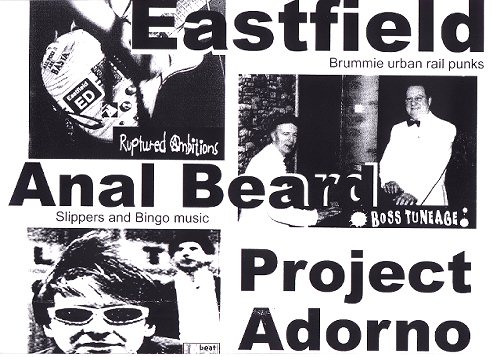 It was with some trepidation that we embarked on a 10 day jaunt with punk bands Anal Beard and Eastfield playing venues the length and breadth of England as part of the "Trains, buses and libraries" tour.
Punk audiences are renowned for despising electronic music in all its guises. How would an audience, turning up expecting full on fast guitars and shouty vocals, take to Project Adorno's blend of 1980's infused electro sounds and (largely) spoken word recitals…
We needn't have worried. Apart from a dodgy moment in Maidenhead it all went rather well…

Brighton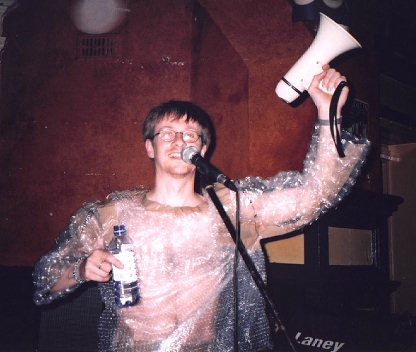 Project Adorno: Russell unveils his bubble-wrap suit

Hot and sweaty. The place is packed, everyone here to see Anal Beard (this being their home ground). Project Adorno open the evening and are greeted with chants of "Tina Turner" by the audience before we even play a note – most perplexing. Russell appears on stage clad in a suit made entirely from bubble wrap – he's literally dripping with sweat by the end.
Anal Beard bring the house down. This is the first time I've witnessed the Beard live and I'm already finding their songs irresistibly catchy – it's punk, but it's so much more besides….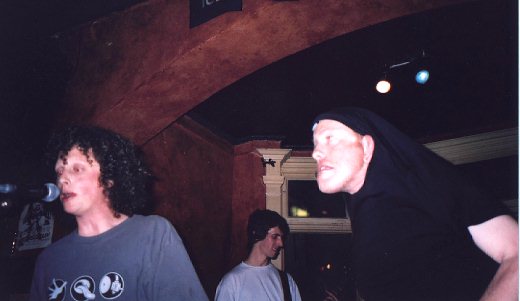 Anal Beard: Punk/Nerd quirkiness

The dynamics of the band are also part of the appeal. The interplay between two vocalists, Paul (Mr Beat Bedsit) and Richard is perfect. Indeed Richard is a star, striding purposefully into the crowd tonight and delivering his vocals from there (I wonder whether he always insists on having an extra long mic lead). The band is given extra power and gravitas by employing two guitarists - Roger and Simon duelling with their respective axes. A triumph for the Beard – they will find it hard to top this performance – have they peaked too early?!

Maidenhead
A warm bank holiday (it's Good Friday) and we join an "all-dayer" with many bands on the bill. Many of them appear to be locals – lots of angst-ridden teenagers. This turns out to be Project Adorno's most surreal and scariest gig ever.
The audience is sparse; there are crash barriers to prevent unwanted stage invasions (we should be so lucky!). Halfway through our set there's a disturbance at the back – it appears that one audience member is fashioning a makeshift flame thrower using his lighter and some sort of gas canister. The next moment he's round the side of the stage – uncomfortably close and adding pyrotechnics to our increasingly nervous rendition of "Pop culture". Russell, again clad in bubble wrap feels particularly vulnerable. Ironically we are trapped by the aforementioned crash barriers. It appears we'll have to curtail our set until someone thankfully steps in to remove our resident pyromaniac (thank you, whoever you are!).
Eastfield arrive on stage shortly afterwards and deliver a blistering set – they are one of the highlights of the day – it's fast, loud and tight – and moreover, perfect for this gig. There's only a smallish crowd for Anal Beard but they carry on regardless. Four "fans" are in attendance (at least they seem to know the words to all the songs) and sit in a line near the front on huge barstools. Their "Fanzine nerd" song is becoming an anthem…
A strange day, all told…

Leeds
I'm off to Bradford to visit my brother, a part-time member of Project Adorno, our sometime spin-doctor and director of communications. The Peter Mandelson of Project Adorno, if you like. Our next gig is in a couple of days. It's a tiny little pub on the edge of the city. There's a good crowd in, and plenty of high mohican hair action.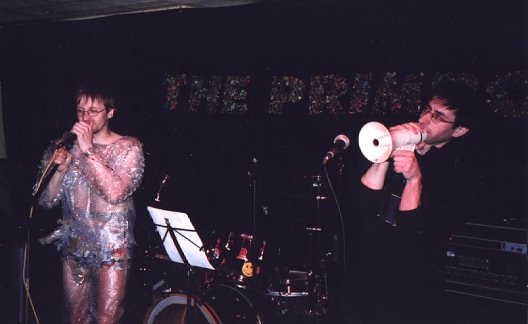 Project Adorno: the Leeds "come-back" gig

We're on sooner than we think, launching into our big pop anthem "Performance Art". We've decided to employ a different approach after the Maidenhead debacle – time to blast the audience with sound, segueing from one track to the next with hardly a break in-between. It seems to be working. The crowd are warm and appear to be enjoying it. "Davros" goes down particularly well. Towards the end of the set we throw in the more mellow, yet bitter and twisted "Letter to a line manager". We end, as we do throughout the tour, with "Double act", a hi-energy piece about being, well, a double act…
Eastfield and Anal Beard are on fine form tonight. I'm really beginning to get into Eastfield's "Henry Jackson" song. Anal Beard are joined on-stage tonight by Russell. A great night.

Lancaster
It's a pleasant drive to Lancaster for the next "leg". We arrive early and have time to look round the town. Everyone convenes at the castle and we spend a relaxing time there. Tonight's gig is in a huge hotel function room. Russell and I have decided that young punks tend to be a bit more open to our sound, whereas the older ones tend to be rather ambivalent. Tonight the place is full of old punks. Great.
After a good gig in Leeds we go for a full-on sound approach once more, kicking off again with "Performance Art". It works well. Russell is getting more and more animated with each gig. Tonight he doesn't stand still for a second. We're finding it works best if we stick mainly to the fast ones ("Sex Pistols", "Dali", "Pop Culture"), dropping in perhaps one slower one towards the end ("Nerd", "Line manager") before raising the bpms again for the big finish (always "Double Act"!). Well, that's our recipe…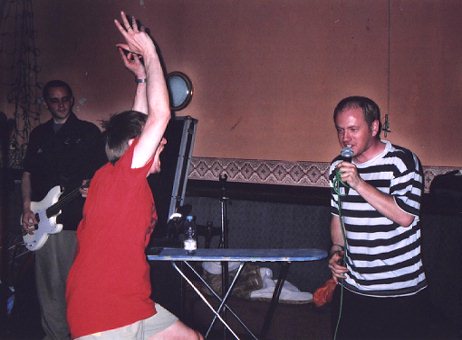 Anal Beard: Russell joins the Beard for "snake-charming" ritual

Tonight belongs to Eastfield. Despite numerous technical hitches including mic feedback (which is a problem we all have to face tonight) and mics refusing to stay in their stands (Jessi's mic being the main offender which finally gets gaffered into place), Eastfield get everyone on their feet. They are on fantastic form and get to do the first proper encore of the tour.

Barrow-in-Furness
Barrow is a stone's throw from Lancaster, just round the corner, so to speak. We arrive at the venue in good time - it's a good-sized pub very close to a large out-of-town Tescos. During the course of the day, each member of the touring entourage pootles over to buy drinks and snacks. There's not much else going on here. Streets behind the pub are small and narrow with houses nestling in neat rows - it reminds me of Coronation St (for the second time during the tour - prior to the Leeds gig we stopped just outside Bradford where the Coronation St factor is high). Whatever, it's all very northern. There's talk of a zoo nearby and some of the others claim to have seen giraffes on the way in.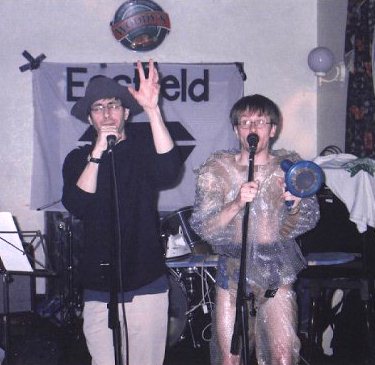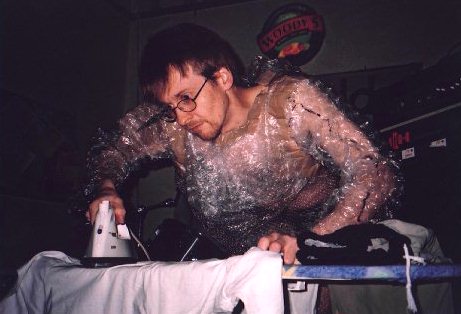 Project Adorno: Ironing in Barrow

Whilst I cannot vouch for this, what I can be sure of is the huge (and I mean huge) dog wandering round the pub that seems to take a dislike to me tuning my guitar. As usual, we're first on - and tonight we fly. There's a youngish crowd in – they look like students and though seemingly too young to get all of our reference points (Dr Who, Commodore vs Spectrum computers etc), indeed to know what the hell we're on about most of the time, they're really getting into it! Russell, as ever in bubble-wrap garb, does some extreme-on-stage-ironing tonight during "Performance Art". We do memorable versions of "Davros" and "Double act" complete with flashing disco lights. Afterwards we are virtually mobbed – one overly enthusiastic and rather drunk young fellow calls us "messiahs…" I think they like us.
I escape to the back for Eastfield's set – they get the crowd dancing and all is flowing – not what you'd expect from a Tuesday night out in Barrow! Expectations are high for the Beard – we anticipate that the crowd will go wild for them. Russell joins them on-stage for dancing and shouty vocal duties (this, after a manic ProjAd set and front row jigging to Eastfield – don't know where he gets the energy!). Unfortunately it's all a bit of an anti-climax. The audience are rather indifferent (maybe too drunk by this stage?) – it's all pleasant enough, however, not the explosive end to the evening we'd perhaps expected. That said, I'm still loving them and tonight is in many ways my dream gig. A world away from Maidenhead. Tonight is Project Adorno's night! All too soon it's over – the huge dog suddenly makes a re-appearance (he's strangely absent during the gig) and we all leave clutching our Tescos carrier bags….

Birmingham
We're off down south to Birmingham – home territory for Eastfield. Jessi Eastfield has given Russell and I a comprehensive set of directions for getting to the venue. We negotiate the city centre without any hiccups and arrive at the venue in good time – it's in Birmingham's "warehouse and factory" quarter. There's plenty of time to kill before the gig and we wander into the city centre stopping off to eat bagels.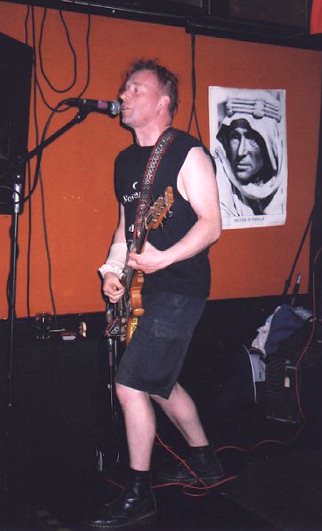 Eastfield: On home ground

Tonight's gig is in a smallish and very hot room above a pub, and for the first time all tour we don't go on first! It's a lively gig – two local and very loud bands open the evening and then we're suddenly on. It's a frenetic set – as usual we start with our big pop number, Performance Art, Russell adding to proceedings with more extreme ironing antics. There's a good-sized crowd in by now and they all look as though they're enjoying themselves (though I'm never convinced!). "Davros" goes down well I seem to recall and in what seems like no time at all, it's over. Another quirky pop performance done and dusted – blink and you'd have missed us.
Eastfield are on next – a surprise – we expected them to headline, this being their home town. However, it is left to Anal Beard to wrap the evening up and they rise to the occasion magnificently. Paul and Richard both undertaking regular sorties into the crowd during their set (the like of which not seen since Brighton at the start of the tour). The atmosphere is electric, the Beard punk/nerd/quirkiness formula working to perfection. Another triumph.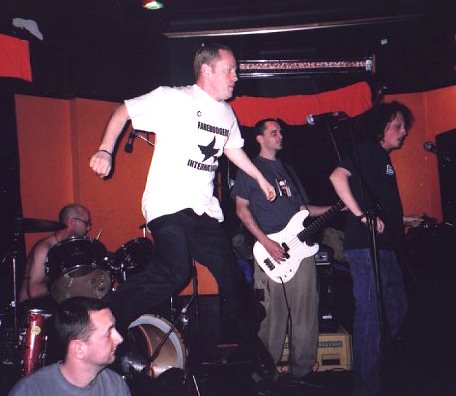 Anal Beard: Levitating

Exeter
The entourage meet up again in Exeter for a quieter night. We're in a small, yet charming pub with a compact triangular stage in the corner. Most of the gang are lounging around in comfy sofas in front of the stage. It's all rather reminiscent of someone's living room. Tonight's gig is "unplugged" – the two on a stage rule coming into play. A cabaret style performance suits Project Adorno to the ground and this is in many ways our easiest night of the tour. Various permutations of Eastfield and Anal Beard (featuring no more than two band members at any one time) take turns to perform.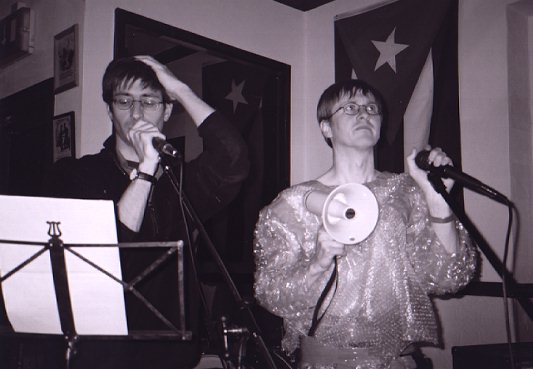 Project Adorno: collecting thoughts

Tonight's gig comprises a string of surprises. Firstly, Roger plays a few selections from the We Am Janet songbook – always a joy to hear "Tragic pig". Later in the evening there's an impromptu set from singer/songwriter Wob, who has turned up unexpectedly this evening. The Adorno set works well – the usual favourites coming in to play – Library, Davros, Line manager, Double act. It's beginning to feel formulaic! That said, another great night – just one more to go.

Plymouth
It's a bittersweet feeling driving down to Plymouth. Just one more gig and then we can relax, but at the same time it will sad to see the tour end. It's been hard work but great fun and certainly the good gigs have outweighed the bad. We're playing at the Nowhere Inn which is a known quantity (we played there as part of the last Beat Bedsit tour). We arrive early and have time to wander round some shops in town. All too soon it's time to set up and soundcheck at the pub.
As ever, the place is heaving by the time we go on (back in our opening slot). Most of the Bedsit crew are down at the front cheering and singing along during "Davros" (a particular highlight). Russell does a manic "Dali" – his dancing reaching fever pitch proportions tonight. "Jeremy" also goes down well this evening. As always at Plymouth it's an anarchic and chaotic affair – but a fitting venue for the tour finale.
The rest of the evening is a little hazy – I think Eastfield are next on, complete with an ex-member who turns up tonight. Anal Beard, no stranger to this part of the world, headline the evening in style!
Suddenly it's all over – we've done it! Eight gigs in ten days (or something like that). Big high – Barrow, big low – Maidenhead!
---
Copyright © 2008

OpenHaus Communications 2019