---
Lost Property Art Show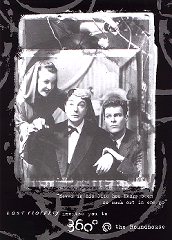 Welcome to 2001 and the 360 degrees art show
taking place within the mazelike undercroft of the Camden Roundhouse. It seems like only yesterday that Project Adorno were invited to contribute a piece for the show and, in so doing, became just one of 60 artists/art groups together making up the Lost Property Collective. We've spent the last few days finalising our "Cheap sweets and sequencers" multimedia soundscape comprising Project Adorno "poemusic", sound samples from children's TV programmes, as well as a selection of ambient and environmental sounds inspired by a recent excursion to the West Country. We've got cloth banners courtesy of Indian Silk Fabrics of Tooting and a stash of cheap sweets (Refresher bars, Fruit salad chews, Drumsticks, packets of Chewits etc) from the local cash and carry. We're almost ready to display our first installation since "Chunnel Vision".

Tues 10th Jan
: We're in the studio doing live mixes of the "Cheap sweets" sound montage. The piece lasts 15 minutes and we need 4 mixes (2 mixes on each side of a C60 tape) - that way we can let it run and loop continuously on an auto-reverse personal stereo. The original plan had been to do one "master" and run copies off from this.
However, in the end we opted for doing each mix live from digital four track straight on to tape thus ensuring maximum sound quality. It's a long winded and labourious task - faders, levels and effects having to be tweaked (up, down, on, off) at precise moments - but ultimately great fun - now I know what dance meisters Orbital and their ilk get up to during a live performance! It also ensures that each version of "...sweets" is slightly different - a louder vocal here, more guitar there etc - though there are moments during the session when an automatic (pre- programmable) SSL mixing desk would have come in very handy! But enough of the techno-speak! Suffice to say, we're pleased with the final result - a cut and paste mish-mash in typical Project Adorno style! The piece is about "exploring the notion of memory, nostalgia and the innocence of childhood" (or so it says in the Lost Property catalogue for the show!). To that end it includes pieces such as "Moving in", a young child's perception of moving from a top floor flat in Stockwell to a house in the suburbs complete with garden no less; reminiscences of cricket matches played with friends out on the local marsh; and memories of a rubber animal collection stored in a tin with a dent in its side. The piece has successfully captured the essence we were looking for, and with the last minute addition of slides depicting various moments of childhood (ours and others), we are complete.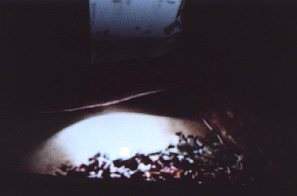 Arriving at the Roundhouse we familiarise ourselves with our designated space for the first time. Up until this point we've been planning everything solely from measurements and dimensions on paper - inevitably it all seems very different in reality! We've got just few hours to get our installation in place. This requires erecting our 4 metre length banners (bearing in mind that no holes are allowed in the listed building's crumbling walls - added to this our step ladder is just too small!), sorting out lighting (which entails finding our designated 3 pin powerpoint) and basically getting the aesthetics just right. We leave with the banners in place but very little else achieved! We've got until 5.30pm the next day to get everything else sorted.

Wed 11th Jan
: We're up early, bleary eyed, still choking on the dust that will become an ever present feature of the Undercroft - sorting out 80+ slides from a mountain of family snapshots - summer holidays, day trips out in London, a succession of Christmases - it's a surprisingly eerie and moving trip down memory lane... We arrive back at the Roundhouse with just a couple of hours to go before the opening of the first night. With the visuals sorted (sweets strewn over the floor, slides loaded and merrily displaying) - we've still got one fundamental problem - our personal stereo (linked up to amp and speakers) playing the "Cheap sweets" audio tape has no auto-reverse function. It's a crucial part of the piece - certainly won't be practical to keep turning the tape over manually every fifteen minutes! We've been unable to borrow one and so there's only one option left. With an hour to go before "curtain up" we hightail it to Tottenham Court Road with the aim of purchasing a suitable walkman from one of the many electrical shops in the vicinity. After a couple of dead ends and duff leads (not to mention a good deal on AA batteries!) we find our baby - no discount (we can but try!) but we purchase regardless and it's back to the Roundhouse. Everything's installed with minutes to go. We're proud of the final "product" - music/sounds interacting cohesively with slides and sweets. Lighting has worked out well (a solitary table lamp casting ambient light from behind the banners). We've erected a banner at the front of our space giving the whole piece a "grotto" effect - viewers have to peer in around the front curtain and then have the option to go "inside" (most do!). The sweets are positively "old skool" (as described by our friend, and one of our first visitors, Richard) - a deliberate ploy to include only those sweets that we grew up with. Over the course of the week we regularly have to remove empty wrappers!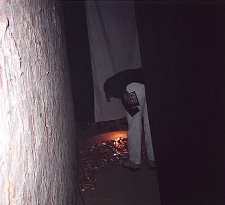 The "Cheap sweets..." grotto

Thurs 12th Jan Today is the first day I've had time to see just what else is happening in this hotbed of creativity. With our piece "switched on" for the evening, I'm free to roam and explore the labyrinthine interior of the Roundhouse. The art on show is so diverse. Walking around the circular rim of the complex it's clear that every nook, every cranny - indeed every inch of the place has been filled with some form of art and expression.
What's more, every artist seems to have adapted to their particular space so naturally. I'm taken by a huge slab of brown clay which has naked lightbulbs imbedded into it. Another space is filled with huge blue luminous inflatables, looking for all the world like a collection of huge condoms. Elsewhere there's a video of an orange being dissected by a "surgeon" - the "squishy" sound effects make the whole thing strangely compelling.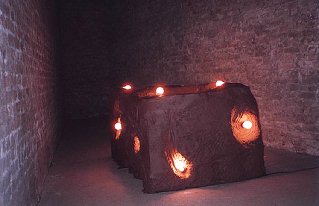 Wandering from one chamber to another I am suddenly struck by two things: the sound of beautiful ambient music and the smell of soap! Rounding the corner I see my friend Brett and his Angel Jam Collective in full swing - they've hired out a space to do a live sound piece - this is the music I'd heard in the distance. Brett is singing - putting his vox through various processors and effects and throwing them out again as ambient shapes into the ether where they bounce off the walls and float down the various corridors. In addition there are two dancers, a harp player and a shadowy figure at the back playing bass. The notes from the Lost Property catalogue perhaps best describe what they're about:
"Imagine a world in which Phil Spector is God and Tricky is Satan. Imagine angels and demons improvising music, movement and poetry through a vast spectrum of exquisite sound. Imagine an urban cathedral of harp, singing, FX and a bass guitar, twisted through stained glass reverb and brimstone flange.....mmmmm. Angel Delight!"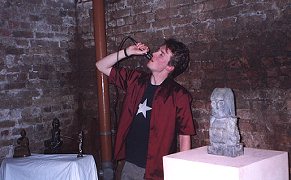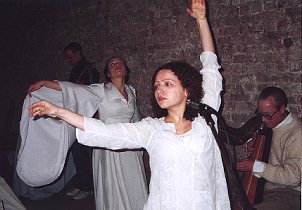 Brett in full FX and the Angel Jam Collective

As for the soap smell - it emanates from a cubicle area just next to the Angel Jam space - bars of coal tar soap have been sculpted into a makeshift shower and waterfall - it's so simple, yet so effective. This odour complete with the Angel Jam ambience combine to create an intoxicating and evocative cocktail. So often we combine visuals with sound, however, the combination of smell and sound is just as powerful, if not more so....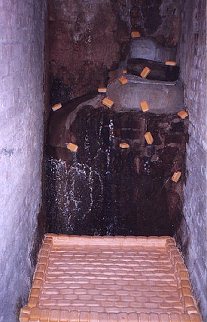 Meanwhile, back in our area the Bonewalk Dance Company are going through their "Sleepwalk" routine. All sound sculptures in the vicinity must be muted for the duration of this piece - this means ours and also Paul Chauncy and Elaine Townson's "Steam" - another great use of space and sound. Their tunnel like space is filled with dry ice and the sound of steam train getting ever closer before finally thundering through. The piece is strangely eerie - I'm reminded of an episode of "Sapphire and Steel" which freaked me out at the time! And lest we forget - Eitan's piece, "Please do not feed" - art or concept? I'm reminded of Emin's "bed".

In the chamber next door to us, Daniel the Viking has surely concocted the most bizarre installation - it's pitch black in here with tons of dry ice. There's instrumental versions of the Doors' music playing on a stereo. It's only later that we witness Daniel's strange "Beowulf karaoke" sessions - readings from Beowulf over the top of said Doors backing tracks. We can't help but keep going back for more! "I might have a bit of Hawkwind tonight" he tells me the next day! It's again one of those simple but effective pieces making you wish you'd thought of it first. That said, it would be difficult to pull it off as well as Daniel does! Meanwhile, in the "space between red quotation marks", there's some serious "cave-activity" going on as Luca concocts cocktails, performs visual poetry and plays un-linear flute music! A real multi-sensory experience! But this is only the tip of the iceberg - there's so much more going on - alas, space and time prevent a more detailed analysis.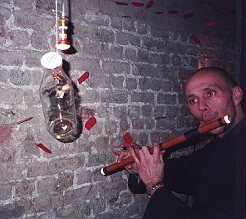 Luca & flute

Fri 13th & Sat 14th Jan
: It's finally time to see what's been going on in the inner circle - this is the performance area which each night has seen all manner of showcases from music, poetry, comedy and dance. It is here that we see Undividing Line (featuring Alison Trower) mesmerise the audience with their chilling "Stethoscope" poetry/music/dance piece, there's also comedy from James Dowdeswell - a seriously nice guy, and poetry from MC and ever affable Dennis the poet. On Saturday we're also treated to Sue Johns' "Painting with words" - powerful poems on the theme of colour complete with slides from Bettina Reiber.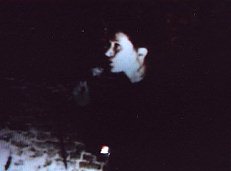 Alison Trower: Undividing Line

Saturday is in two halves, so to speak - there's an afternoon showing which is fairly relaxed and laid back, and then in the evening, this being the last night, it's party time! What's more, they're queuing out the door and down the road! It's amazing but greatly gratifying to be part of something that's obviously such a hit! At one point the bouncers on the door tell me they're not letting anymore in until others leave. This ensures there is a steady stream of visitors to the "Cheap sweets" grotto late into the night.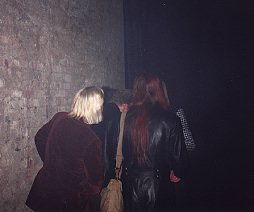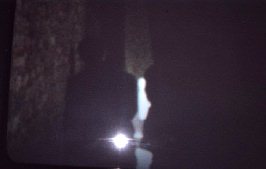 Crowded house: trying to get a glimpse of Project Adorno

The whole thing has clearly been a runaway success - indeed we can honestly say, if you weren't there you certainly missed a real happening!
Click here to view Project Adorno's alternative guided tour of the Lost Property exhibition