---
Merton Arts Festivals 1994-96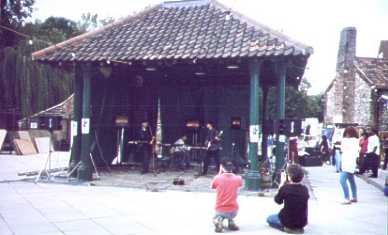 Under the bandstand
So it was that on a hot August day in 1994 that we made our live debut under the bandstand at Abbey Mills, Merton. Looking back on it all now it seems a daringly ambitious performance involving electric and acoustic guitars, keyboards, bass, live sequenced music and sound tapes alternately played at various times during the set by just the two of us; as well as vocal duties to perform. In addition we were flanked by three large television screens on stands providing visual accompaniment to each song. It was a real multimedia event - and our dream come true! We played six songs that day, Creamwove, Peach Wheels, Magic Hour, Small Town Village Idiots, Sunset Over London and Perfect Summer.
It had seemed an age in getting to that moment. We had been involved in the organisation of the 1994 Merton Arts Festival since its original inception at the start of the year attending various Council Arts Forum meetings and making up one quarter of a working party responsible for the music that would be represented during a two (or was it four?) week festival period.
The opening day of the festival had been a triumph of sorts. The weather was kind and everyone, performers and public alike, appeared to be genuinely united in festival camaraderie. A general feel good factor permeated the whole day with a troupe of French stilt walkers leading a procession into the main town centre from where a host of performers amateur and professional shared the limelight for a day. Although the Merton Arts Festival had a history predating 1994, should it ever become as renowned as, say, the Notting Hill Carnival or dare I say it, the Edinburgh festival in years to come, I really do believe that the beginnings of its greatness could be traced back to this year. Many people felt that new life had been breathed into a previously elitist and somewhat cliquey event. It may be argued that this new life pandered blatantly to popular mass culture replacing and displacing the true artist struggling to express him/herself beyond the confines of mass appeal but this is another argument for another day.

And so we arrived at the final weekend of the festival which focussed on music as its predominant art form. There were six or seven acts performing on the Saturday "Under the bandstand" event. We were due to go on towards the end and so had what felt like an never ending wait whilst various bands, singers and African drumming groups all did their thing. We watched with particular interest the performance of fellow working party members Marie Malone, an enthusiastic, charismatic and thoroughly warm person with a wonderful voice, and folk duo Frampton and Weller who privately became our arch rivals. We'd been working with Marie on a cover of "I don't know how to love him" which was to be performed the next day during the festival finale.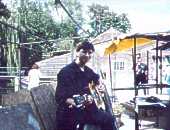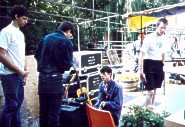 As our allotted slot drew closer, guitars were feverishly tuned and I went scouting for a juggler to join us on stage in order to complete the whole multimedia/ performance art concept. Needless to say this turned out to be fruitless (someone who'd tentatively agreed to do it earlier had now vanished off the face of the earth). Instead we coerced our longstanding friend Putt to man the sequencer and add to the overall visual effect. (In truth we were perhaps trying to stave off the ever growing feeling that we'd look alarmingly like a couple of lemons on our own up there!). And then suddenly we were on and straight into our first number, the largely instrumental Creamwove. The decision to start with this was a purely tactical one - the psychology being not to destroy all the myths at once. Although people may see (or hear) that we couldn't play they wouldn't also be able to judge our vocal ability (or lack of) simultaneously!
In truth the set went surprisingly well. Creamwove, drawing musically on the Cure at their most melancholy would have benefited from clouds of dry ice and stadium crowd noise but hey, you can't have everything! We'd both relaxed by the time we got into Peach wheels and I looked over at Sunil in a "Pet Shop Boys on surf boards" kind of way (see their live performance from 1991) just as we'd rehearsed. For Village Idiots I moved onto keyboards. I'd previously been a bit apprehensive about my vocal on this one - something about not being able to hide behind a guitar whilst singing as I was able to for the rest of the set!
There were a few blips such as the drumtrack to Sunset over London starting up at a much slower tempo than it should have done, however, Putt moved swiftly into action and we were back on course before anyone had really noticed. We closed with Perfect Summer, which, with its Great Gatsby inspired lyrics about heat, (a book containing one of the best descriptions ever of a hot summers day) and the fact that, weatherwise, it had been one of the best days we'd had that summer, seems to me now to have perfectly encapsulated the mood of the moment. We retired triumphant and I went and bought a copy of "The last summer" by Boris Pasternak from one of the second hand bookstalls that populate the area, which seemed like the most appropriate thing to do. We certainly got a lot out of that performance. Whether those watching completely shared our euphoria is another matter and ultimately something for them to deal with. My only regret is that we failed to go out for an after performance meal in a fancy restaurant a la Pet Shop Boys!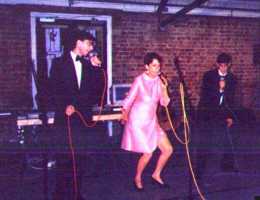 We returned to Abbey Mills the next day for our duet with Marie Malone. The whole thing nearly didn't happen when, failing to get a soundcheck, we contemplated pulling out! Luckily, in retrospect, we didn't as the ensuing performance went down rather well. In addition to a screening of our super-8 film Fickle we performed two songs, the aforementioned "I don't know how to love him" for which we had constructed an upbeat electronic arrangement, intending to play the role of Pet Shop Boys to Marie's Liza Minnelli, and "Age of Aquarius" which was a lot more downbeat and ambient allowing Marie's considerable vocal talents to take centre stage. We hired tuxedos for the evening and Marie wore her "pink dress" - we were determined to look good if nothing else! I can honestly say that the performance was an enjoyable experience, particularly "I don't know how to love him" which left some audience members slightly puzzled as to why we hadn't changed the gender! (But then, how could we?).
We declined the offer of an encore accompanying Frampton and Weller in their cod rock'n' roll run through complete with indoor pyrotechnics, a decision which I can safely say I've not once since regretted. As we packed all of our equipment away that night and the venue once again took on its familiar appearance as an empty indoor market awaiting the return of its stall holders, we vowed to be back again the next year.

Non performance
And we were. Paul McCartney once said, when asked why he never attempted to recreate past glories and relive his Beatle days, that you can't reheat a souffle. Something that was exciting, fresh, popular, successful and indeed magical the first time round very rarely evokes the same emotions if recreated for a second time - in a sense you can never go back. The 1995 Merton Arts Festival in many ways took on the appearance of a reheated souffle. For a start the weather was not so good. We were scheduled to play a set similar to our bandstand performance the previous year, this time on the opening day of the festival. We diligently rehearsed five new songs, Slope, Cult Sculptor, Things we said today (an uptempo cover of the Beatles classic), Time of your life and Long for love. We were primed and ready to go.
The day got off to an inauspicious start. After filming the opening procession from various vantage points we ran on ahead to the Fair Green where the main stage was still being erected. They were cutting it fine - the procession was due to arrive in a matter of minutes and the stage roof was at this point down at our ankles - apparently equipment had turned up late - the organisers had been there since 6am - it was now nearly noon. Thankfully the stage roof was jacked up just as the procession turned the corner and the Mayor was able to successfully declare the 1995 festival open for business. The first few acts came and went, Taiko drummers, a fire eater and his accomplice, a conjuror who doubled up as compere for the day.
As the afternoon wore on and it got ever nearer to our particular "show time" the weather began to deteriorate. It started with the wind which blew the aforementioned stage roof inside out before it collapsed completely. Makeshift stages were set up elsewhere on the green. However, shortly after Dale Miller and co had completed their flamenco dance routine on the cobblestones outside Mcdonalds, the heavens opened. Everyone took cover in the nearby pub.
Despite being initially disappointed that we wouldn't get the chance to perform on the main stage (our "Wembley" equivalent for the day), we had up until this point been confident that we'd be able to cut loose with our obscure pop texts in some shape or form somewhere on the green. It was now concluded to be futile. It was perhaps at this point that we first began to question the notion of performing live electronic music with all the inherent baggage that comes with it. Marie Malone pulled off a valiant performance in the rain aided by a small toddler who ran up to her mid set. She picked up the child and continued singing, which, for me became one of the most endearing and memorable images of the festival that year.
The Keynotes and their entourage packed up and left. We mulled over our non-performance during a "celebratory" Indian meal that evening. We'd regretted not having gone out to celebrate the previous year and now, having rectified that part of the proceedings, we had nothing to celebrate one year on.

Chunnel Vision

All was not lost however as we managed to negotiate a performance of Chunnel Vision, our choral/spoken word/electronic "weirdo" piece as part of a "vocal accord" evening the next week. We had a week to rehearse the piece with Sunil at one point threatening to play an electronically treated violin. In the event we settled for the piece to be played on tape whilst we accompanied with live vocals. We dressed in black both wearing a pair of 3D glasses - two futurist Joe Nineties for the nineties! Rather than use conventional lighting we were backed by two television screens showing nothing but "hash" and "noise" through (deliberately) being de-tuned to no particular channel (They were in effect "chunnelled"?). As a finishing touch these were draped and covered with thin white cloth. The whole thing was curiously successful although I think a lot of those present didn't quite know what to make of it, or us. Still, what's new?!
The screening of our Satie film later that same festival continued with the non-performance theme.

On Festival theme songs
We'd written a theme song for the 1995 festival that we'd literally taken "on the road". Along with Frampton and Weller and artists from the Wimbledon Kitchen Studios we'd gone round the borough in a float the week before the festival proper in order to "raise awareness" and publicise the forthcoming events.
For the 1996 festival, in addition to providing another film for local music director Andrew Charity (this time based on, and entitled, Stockhausen) we also collaborated in a performance of the theme song on the opening day of the festival. We had visions of a full orchestral backing, however, in reality all we got was a ragbag of singers and two violinists. The piece became almost two songs in one. Our electronic arrangement kicked the whole thing off, stopping midway through to allow the violinists to perform a curious (some would say improvised) middle eight section, before the electronics came crashing in again to finish off.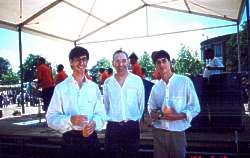 Despite the fine weather and the large crowd in attendance, it wasn't quite how I'd imagined or how we'd planned it to be! Considering that here was a supposedly experienced (albeit amateur) choral group, they had absolutely no notion of how to work the mics. One guy with a voice uncomfortably similar to mine was in danger of swallowing his (I was secretly hoping he would) and it wouldn't have mattered so much had his singing been in tune. Just for the record, in case you were there - and you know what my voice sounds like, I would like to point out that this was not me singing!
That was our last Merton Arts Festival appearance for a while. We gave the whole thing a miss in 1997 but returned in 1998 to find ourselves co-hosting an event in Merton and Mylau (Germany) simultaneously! It was a multimedia affair called the Mylau Experience. Most significantly it marked the first occasion that Praveen & Russell took to the stage together. From this point on Project Adorno was re-born as a beat-poetry & cabaret act.